Georgia School Buses Ready for New School Year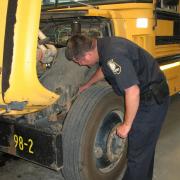 (ATLANTA)—As school systems across Georgia begin the new school year, the Georgia Department of Public Safety says the state's public school buses are ready for their daily tasks as well.  The Department's Motor Carrier Compliance Division has completed its annual inspection of buses as required under Georgia law.
   Major Gene Davis, Commander of the DPS Motor Carrier Compliance Division, said officers have inspected almost 20,000 school buses across the state during the past 12 months.
   "Georgia law requires each school bus that is owned or operated by a state, county or municipal government, or under contract by any independent school system to be inspected annually to ensure the vehicle is in a safe operating condition," Major Davis said.  Officers with the Motor Carrier Compliance Division inspect school buses across the state throughout the year.
   During the inspection, officers will check the tires, brakes, exhaust system, fluids, belts, hoses, headlights, marker lights, stop lights, and mirrors.  Any defects found must be corrected before the school bus is put in service to transport children and a school bus certificate of safety inspection is issued.
-30-
Contact Information:
DPS Public Information Office (404) 624-7597