DPS Exploring Expansion of Truck Inspections Near Georgia Port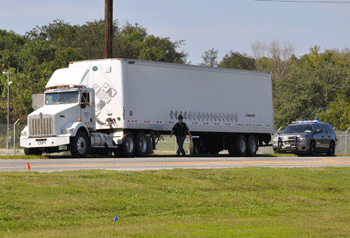 (SAVANNAH) – The Georgia Department of Public Safety is exploring the possibility of expanding inspections of commercial motor vehicles leaving the Port of Savannah. Colonel Mark W. McDonough, DPS Commissioner, announced Friday that the Department is exploring various funding options to establish a full-time inspection station at the port.
Speaking at a news conference held at the conclusion of a three-day concentrated patrol around the port, Colonel McDonough said officers with the Motor Carrier Compliance Division routinely conduct concentrated patrols around the Port of Savannah as a safety measure. "Not only are our officers watching for commercial vehicles with safety defects, but also for indications of criminal activities," he said.
Colonel McDonough said he hopes to seek funding in the coming months that will permit the establishment of the full-time inspection station and allow for the addition of at least 20 Motor Carrier Compliance officers. Last year, the Department of Public Safety began employing civilian weight inspectors to staff the scales at inspection stations across the state. "This move has allowed the Department to put additional sworn officers on patrols in the nine MCCD regions," he noted.
"Traffic enforcement and commercial vehicle inspections are just part of the overall enforcement job our officers do each day across the state," Colonel McDonough added. "MCCD officers also are involved in crime-fighting efforts, especially in the area of cargo thefts, drug smuggling, and counterfeit merchandise that can enter our state through our ports." He added that the proposal to enhance the MCCD presence near the port is to boost the enforcement presence and not replace existing measures.
Contact Information:
DPS Public Information Office