Georgia State Troopers and Officers Urge Safe Driving in School Zones
(ATLANTA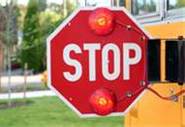 )—The Georgia State Patrol is cautioning drivers to be alert and use care while traveling in school zones and around school buses as students across the state return to classes this month.  Colonel Mark W. McDonough, Commissioner of the Georgia Department of Public Safety, said Georgia State Troopers regularly patrol school zones as part of their normal duties and they will be keeping a close watch for school zone violations.  He said troopers will also be watching for people who fail to stop for a school bus that is stopped to load or unload passengers.
Colonel McDonough said Georgia Law requires vehicles to stop when overtaking or meeting a stopped school bus that is loading or unloading passengers.  "Vehicles are required to stop in both directions for a stopped school bus that is displaying its red stop lights and has the stop arm activated," he said, "except on a controlled-access highway or when the highway is divided into separate roadways."  After stopping, a vehicle may proceed only when the school bus resumes motion or when the flashing red lights are no longer activated.
Georgia State Troopers and Officers with the Department of Public Safety's Motor Carrier Compliance Division urge drivers to leave more space around the school buses, especially when following a bus.  "Drivers who tailgate a school bus can't always stop because they are not prepared for the frequent stops a bus must make," Colonel McDonough noted.  "Drivers should not tailgate a school bus."  Fatal traffic crashes involving school buses occur most often when the driver of the smaller passenger vehicle strikes the school bus.  
"Drivers should always exercise caution around a school bus and observe the posted speed limit in school zones," the Commissioner said.  He reminds drivers that a conviction for unlawfully passing a stopped school bus carries six points on your driving record.  "For drivers under the age of 21, a conviction for unlawfully passing a stopped school bus will result in a six-month suspension of your driver's license," he added.
Colonel McDonough also urges drivers to be especially careful when traveling through school zones.  He said school zones are marked with either flashing caution lights or posted hours for reduced speeds.  In some cases lights and signs are used to alert drivers.  Troopers regularly patrol in school zones watching for violations that can result in fatal crashes. 
-30-