FATAL CRASH ON I-75 IN LAMAR COUNTY
The search is continuing for the vehicle and trailer involved in a fatal accident on Monday that killed a 53-year-old Alpharetta man. After interviewing witnesses Wednesday, investigators now believe that the vehicle and trailer is similar to the one in the attached photos.
Investigators are treating this as an accidental death, and believe that the driver may have not known that the incident occurred. The victim was not hit by the trailer.
The pictures were taken from the car camera of a Lamar County Sheriff's Deputy vehicle. One photo shows a dark colored pick-up truck and the other shows the flatbed trailer that was being pulled by the pick-up truck. The tractor trailer is not involved.
Anyone with information on the vehicle, trailer, or driver is asked to call the Georgia State Patrol at the Newnan Communications Center at 770-254-7201 or the Lamar County Sheriff's Office.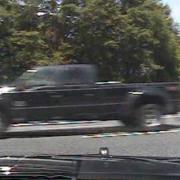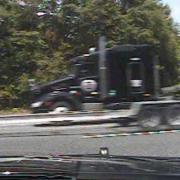 Contact Information:
DPS Public Information Office - (404) 624-7597