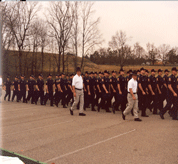 The Georgia State Patrol Training unit is located at the Georgia Public Safety Training Center (GPSTC) in Forsyth, Georgia. Training is responsible for recruit training, in-service training, advanced, and specialized training for all members of the department.
GSP Trooper School consists of 31 weeks of training. Cadets spend eighteen weeks at the academy, twelve weeks in field training, and return to the academy for one week of preparation for graduation.
The Georgia Peace Officer Standards and Training Council requires that all peace officers receive a minimum of 400 hours of Basic Mandate Training.
Georgia State Troopers, at the completion of Trooper School, will have received approximately 1500 hours of training.
The Trooper School Curriculum includes: over 100 hours of driver training, over 40 hours of defensive tactics training, vehicle stops, Spanish, criminal law and criminal procedures, firearms, accident investigation, and various other classes.