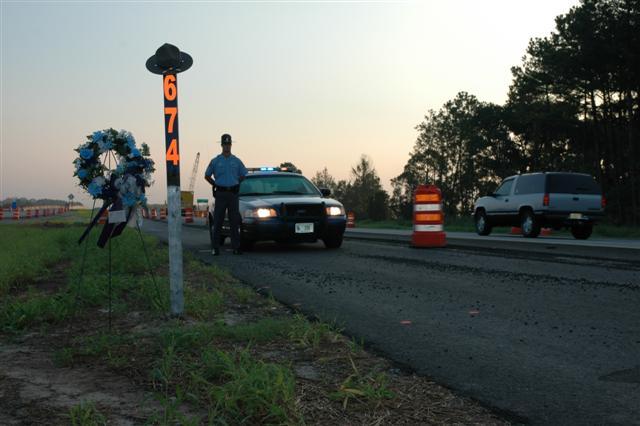 Law enforcement officers from around the country, family members, and friends attended the funeral for Georgia State Patrol Corporal Mike Young Saturday in Brunswick.  During ceremonies at the gravesite, the GSP Aviation Unit paid tribute with a fly-over of GSP helicopters in the Missing-Man Formation.  Mike's fellow Honor Guard members closed the service by yielding flag and rifle duties.  Each member then removed their gloves and placed them on Mike's casket.  Earlier in the day, Mike's co-workers from Post 23 stood duty at a crash site memorial on Interstate 95. 
            "Cpl. Young was a model Georgia State Trooper who took great pride in his job," Colonel Hitchens said.  "He always treated the public with the utmost respect and courtesy, and truly loved his job."
            Cpl. Young was critically injured August 19 while going to assist a fellow Trooper who was involved in a pursuit.  His patrol car began to hydroplane and traveled into the median before entering the northbound lane of the interstate where his patrol car was hit in the rear.  Cpl. Young was taken to SoutheastGeorgiaRegionalMedicalCenter in Brunswick where he died August 29.
            Cpl. Young joined the Georgia State Patrol as a Trooper Cadet in November, 1985 and graduated with the 61stGeorgiaStatePatrolTrooperSchool in November, 1986.  He spent most of his career at the Georgia State Patrol post in Brunswick where he had served as the Assistant Post Commander at the rank of Corporal since February, 2002.  During his career, Cpl. Young served on numerous special details including the 1992 Olympic Flag Arrival Ceremony and the 1996 Olympic Torch Relay.  He was a member of the GSP Honor Guard.
            Cpl. Mike Young is the 26th member of the Georgia Department of Public Safety to be killed in the line of duty since the Department was founded in 1937.
A PowerPoint file with additional photographs has been placed under News & Events.