:
Important Updates Regarding COVID-19/Executive Order
The statewide executive order for empowering a healthy Georgia will extend through June 15. This order affects all Georgia residents and visitors. Review the following: COVID-19 Updates
SCRT
11796638SCRT-web-REV.gif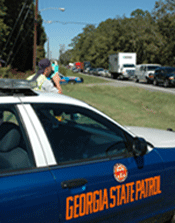 The mission of the Georgia State Patrol Specialized Collision Reconstruction Team (SCRT) is to provide a means by which fatal crashes can be investigated thoroughly by specially trained investigators and properly document evidence in collisions to be used for successful court prosecution. SCRT also gathers statistics in order to save lives by avoiding future collisions.
SCRT has five teams of investigators stationed strategically throughout the state to assist field troopers with fatal crashes. These investigators are equipped with the latest technology and are on call 24 hours a day, seven days a week.
SCRT also assists agencies in the investigation of major incidents when requested. These incidents include: homicide cases, officer involved shootings, fatal crashes, and large crime scenes.