:
Important Updates Regarding COVID-19/Executive Order
The statewide executive order for empowering a healthy Georgia will extend through September 30. This order affects all Georgia residents and visitors. Review the following: COVID-19 Updates
Major Kevin Rexroat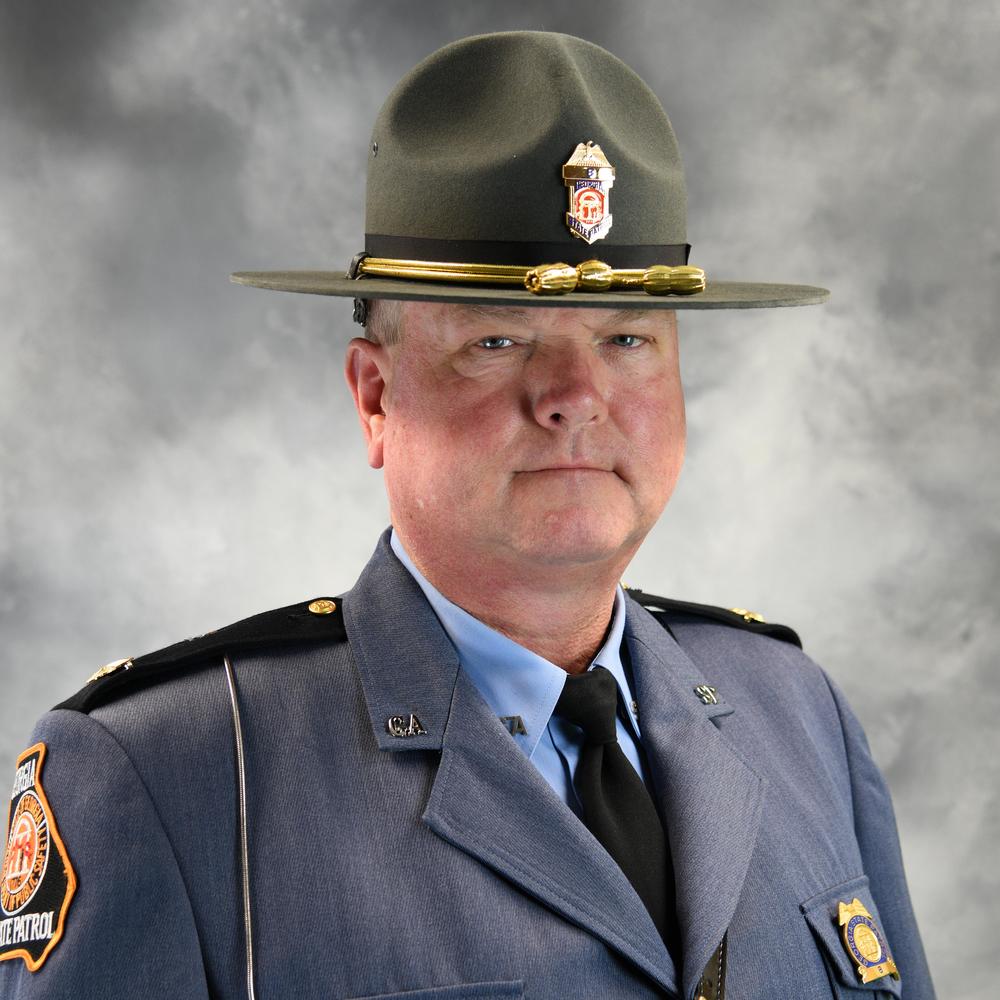 Executive Officer to the Commissioner and Headquarters Adjutant
Leadership
Major Kevin R. Rexroat serves as the Headquarters' Adjutant of the Georgia Department of Public Safety and Georgia State Patrol. His appointment was effective on December 1, 2019. He also serves as the Executive Officer to Colonel Vowell, DPS Commissioner.
Major Rexroat is responsible for and oversees the Administrative Services Division of the Georgia State Patrol, which encompasses several aspects of the department, including Fleet Services, Computer Services, Facilities Management, Supply, Communications, and Headquarters Security.  These divisions are responsible for providing vehicles, clothing, computers, radios, and other supplies and equipment to Troopers and MCCD and Capitol Police Officers throughout the state.
Major Rexroat knew he wanted to be a Trooper since childhood and joined the Georgia State Patrol in 1988.  He began his career as a Radio Operator at Post 16, Helena and was selected to attend the 64th Georgia State Patrol Trooper School in 1989. After graduation, he was assigned to Post 30, Cordele, GA in 1990. In 1997, he accepted a detachment to the United States Marshal Service as a Fugitive Investigator with the Middle Georgia Fugitive Squad in Macon. In 1999, he was promoted to Corporal at Post 14, Donaldsonville and transferred to Post 13, Tifton as a Corporal in 2000. In November of 2001, he was recruited to join the Georgia Public Safety Training Center in Forsyth, GA as Security and Internal Affairs Director, and Governmental and Legislative Liaison. In 2003, he returned to DPS/GSP as a Trooper assigned as the GEMA Homeland Security Liaison. In 2004, he was assigned to the Garage/Fleet Services where in 2005 he was promoted to Corporal and remained there until 2008. In 2008, he was promoted to Sergeant at Post 35, Jekyll Island, GA. In 2010, he was transferred to Troop H as Acting Post Commander to Post 15, Perry and Post 36, Douglas until Post Commanders (SFCs) were in place. In 2012, he was promoted to SFC as Assistant Director of Communications at Headquarters in Atlanta and eventually Director of Communications in 2013. In 2014, he was promoted to Lieutenant over the Garage. In 2015, he was appointed to Captain, Executive Officer of Administrative Services at Headquarters in Atlanta. In December 2015, he was transferred as Troop Commander of Troop H, which includes Perry, Cordele, Tifton, Douglas, and Valdosta Patrol Posts.
Major Rexroat was born and raised in Albany, GA. After beginning his career, he relocated to Dooly County (Vienna, GA) and has made it home ever since. He is married to his wife, Sunny, and they have a son, Luke, a Junior in high school. They attend the Vienna United Methodist Church in Vienna.