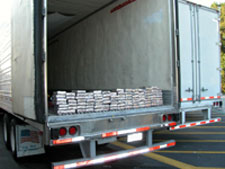 May 27, 2005
FOR IMMEDIATE RELEASE
NEWS RELEASE
(ATLANTA)—The Georgia State Patrol seized 93 kilograms of cocaine bound for the Atlanta area after a search of a tractor trailer Thursday evening in West Atlanta.  A Trooper became suspicious of the vehicle and, in conversation with the driver, several indicators of possible illegal activity were noted.
            Following a search of the trailer, State Troopers found the cocaine in a false compartment.  The cocaine carries an estimated street value of $1,860,000.
            The driver, Juan Guadalupe Hinojosa, 24, of Weslaco, Texas was arrested and charged with violation of the Georgia Controlled Substances Act (trafficking in cocaine).  An investigation is continuing by the Georgia State Patrol and the Drug Enforcement Administration.
-30-