:
Important Updates Regarding COVID-19/Executive Order
The statewide executive order for empowering a healthy Georgia will extend through April 30. This order affects all Georgia residents and visitors. Review the following: COVID-19 Updates
Aviation
11796650Aviation-Helicopter-web.gif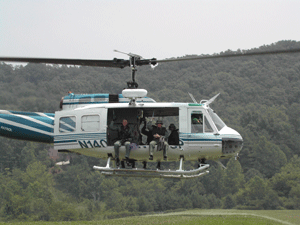 The Georgia State Patrol Aviation Division operates 24/7 to provide air support to the Georgia State Patrol and in support of public safety interest for the citizens of Georgia.  The Division fleet is comprised of 15 helicopters and one Cessna 182 airplane.  There are six field hangars located in Kennesaw, Albany, Gainesville, Perry, Reidsville, and Augusta.
Aviation performs search and rescue missions utilizing FLIR (Forward Looking Infra-Red) camera systems. Many missing persons and criminals have been located using this technology. Other missions supported by GSP Aviation include: manhunts, aerial photography, aerial surveillance, natural disasters, SWAT missions, fire suppression, microwave downlink, executive transport, and static displays (high schools and colleges, civic groups, local law enforcement agencies, and air shows). This division has become the leader nationwide in its innovative use of helicopters for marijuana suppression which earned the unit the coveted Helicopter Association International Hughes Law Enforcement award.  
GSP Aviation Field Hangars
Kennesaw Hangar (patrols NW Georgia, including Metropolitan Atlanta)
1900 Airport Road
Kennesaw, GA 30144
Albany Hangar (patrols Southwest Georgia)
3411 Newton Road
Albany, GA 31701
Gainesville Hangar (patrols Northeast Georgia)
1660 Palmour Drive, AA-1
Gainesville, GA 30501
Perry Hangar (patrols West Central Georgia)
575 Myrtle Fireld Road
Perry, GA 31069
Reidsville Hangar (patrols Southeast Georgia)
P.O. Box 1609
Reidsville, GA 30453
Augusta Hangar (patrols Eastern Georgia)
1476 Cargo Road
Augusta, GA 30904